Neutron Star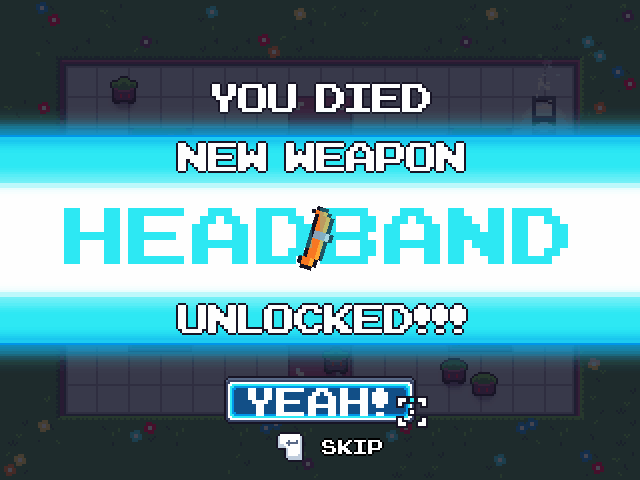 Made some changes based on CrypticHybrid's stream! Go check him out if you haven't! He played the game!

These changes also affect the demo (where possible)

GENERAL:

Map & Character won't reset when going back to the main menu
Minigames are now GUARANTEED at multiples of 10 (if you have at least one!)
Unlocked weapon doesn't cover its own name while unlocking
Rarity chances change at 8, 16 and 24 points (instead of 10, 20, 30)
BALANCE:

SENTRY GUNS cooldown triples after the first sentry is destroyed
LEAPFROG invulnerability time tripled after jump
BUGFIXES:

Fixed a bug where you could use locked maps/characters when using a mouse
Fixed a bug that made the cursor render incorrectly while unlocking
Fixed a bug where time didn't display correctly in the stats screen
BOSSFIGHT bullets now kill normal enemies
ULTRA weapons now correctly change the song's tempo when the minigame ends (instead of on the next pickup)
Fixed some rendering bugs relating to depth
Pickup invulnerability doesn't override TIMESTOP invulnerability
ROGUELIKE no longer spawns a pickup in the arsenal after winning
Fixed a crash related to TIMESTOP
Fullscreen mode is displayed correctly in the options now
As always, make sure to vote for the game on greenlight and follow on twitter!
Remember there's daily giveaways until we get past greenlight (or it ceases to exist!)

I know it might seem silly to do patchnotes for such a small game, but I really want to build the habit of logging everything I do in preparation for my next game. Also, if I don't take the game seriously, who is going to?

Files
NEUTRON STAR (1.0.4)
25 MB
May 02, 2017
NEUTRON STAR DEMO (1.0.4).exe
19 MB
May 02, 2017